Fishing charters Tampa  an old article republished
This stroy appeared in the pages of Onshore~Offshore magazine in February of 2104
#tbt
Throw Back Thrusday
I was raised in east Pasco County and spent the early chapters of my  life as a fisherman  casting black Plastic worms, jitter bugs and hula poppers at Large Mouth Bass upon the waters Lake Pasadena fishing with my Dad, those are some great memories.  I caught my first Bass there when I was a kid. It was on a black culprit worm, my Dad always said, when in doubt, set the hook! So after hooking every lily pad and bull rush in the lake I finally set into a little Bass, it was, at the time a highlight in my very young life.
I was at the gym when the ping from my cell alerted me to a text, Johnny Touchton,   invited me for an afternoon on Lake Pasadena. I had not fished this lake in at least 15 years. It was here where a few of my early Bass fishing stories were spawned. I was out the door, ready to get my fish on! As I rambled down the road to the old ramp I relived memories of fishing with my Dad many a summer afternoon. One summer in the mid 90's when the water was high the schoolies were crunching minnows every afternoon, my friend Danny Wade and I spent countless hours in casting tiny torpedoes at them, fish after fish over the side, most were in the 2 lb range, I remember it was a lot of fun running from one side of Pasadena and following a little trail at wide open throttle into Buddy Lake. The two lakes are connected when there is a surplus of water, which is not very often.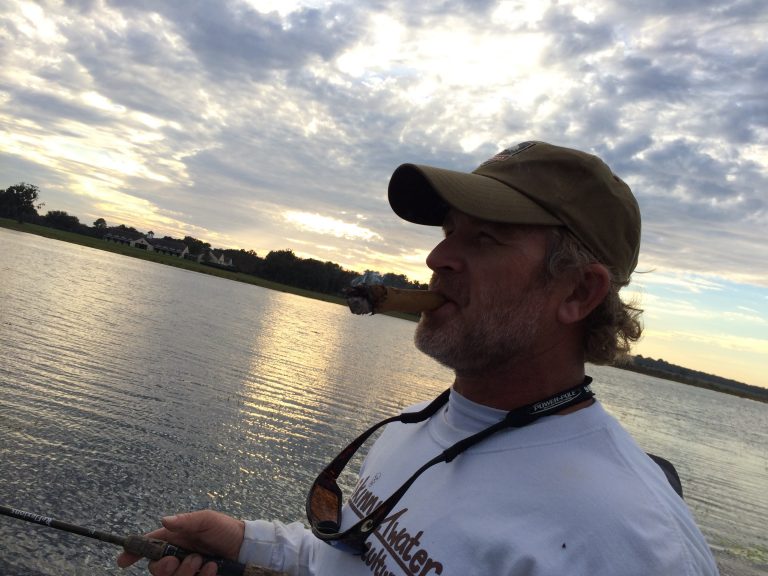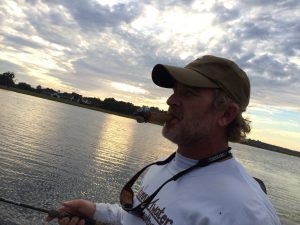 This was a spur of the moment trip; Johnny had been doing well and spoke of schooling fish in the late afternoon. I had nothing going on and was in for a couple hours of stalking an old mossy back or two. The boat was in the water and waiting for me, Johnny  fired up the 2 stroke Vmax with a puff of pungent smoke we were off, around a bend into the area that had been producing. I was tossing a frog and Johnny was working a jerk worm. I had one blow up, missed it.
The temperature was nearing perfection; the sun was beginning to melt into the horizon tossing off all the colors the Crayola company wishes they could produce. While fishing,  Johnny had set the beats pill on the dash and the smooth sounds of" Bruddah Iz" (Israel Kamakawiwo"ole) filled the air around us. Bruddah Iz was a Hawaiian native and a singer, he passed away a few years ago, he was an extremely large man with the purest voice I have ever heard. I took a break for a minute to ignite my cigar, and began to really relax. I was snapping pics with my phone, and was really just taking in the sheer natural beauty of everything around me. Johnny kept on fishing as we conversed of all the things of little or no importance. We kinda have a rule when we fun fish, no religion, no politics, plenty of cigars and plenty of cold beverages.
I was watching Johnny, he was in full focus, intent on catching a fish, I had a strike earlier, choked it and was now very content shooting the proverbial bull and literally blowing smoke as Johnny stuck a solid fish and lost it. I had now propped my bare feet up on the side console of his Skeeter  Intercoastl,  I was full on in relax mode. I knew at this moment I was not gonna pick up a rod the rest of the trip. We talked, Johnny fished, I sat.
Sometimes a fishing trip goes from being a fishing trip to being an adventure, sometimes it flounders and it becomes a time to reminisce with a good friend during the lull, telling stories of our youth on the same lake we were fishing. This one for me was floundering.  The talk of old honey holes, the underwater fence and we began sliding from reality. Johnny was tooling around on the electric motor as we were talking about the Spanish moss gently swaying from a slight breeze on the old sunlit oaks across the lake. Like I said it was pretty much a wash, at least for me, don't get me wrong I was really enjoying myself, but really at that moment, I could have cared less about a fish.
We did not have a stellar trip, we caught one…..well, Johnny did. After besting his fish, we sat, Johnny on the deck, me on the cushioned seat, drifting across the lake and talking about how the lake of my youth was not so different 15 years later as it became the lake of his youth. By the time he was experiencing it I was done with that chapter and moving in different directions in my life as a fisherman, we laughed about my cigar unfurling and snapped a pic, it was great to break the stride of life and spend a Thursday afternoon doing  a throwback trip.
The lake has seen better days and worse days I'm sure.  The constant evolution of Lake Pasadena is no different than any other lake, but this day it held for us what we needed, an afternoon of memories reminisced and talk of time spent with family and friends, doing what guys do, and taking it all in…
I am reminded of a quote from my favorite book in the Travis McGee series by John MacDonald, The Empty Copper Sea (1978) it rings true 36 years later.
"Florida can never really come to grips with saving the environment because a very large percentage of the population at any given time just got there. So why should they fight to turn the clock back? It looks great to them the way it is. Two years later, as they are beginning to feel uneasy, a few thousand more people are just discovering it all for the first time and wouldn't change a thing. And meanwhile the people who knew what it was like twenty years ago are an ever-dwindling minority, a voice too faint to be heard"
The cycle is repeated every day. I love Florida.I love the old Florida of my youth, and the Florida of every chapter of my life but as much as I love this great state,  I am, unfortunately , part of the ever-dwindling minority……
To experience the adventure, whether it be live bait, artificial, sight casting ,on the fly, or just have a question give Capt. Tim a call text or email.  Who knows you may find your story here, in the pages of next month's Onshore Offshore magazine! Cell:813-714-0889 email: tim@swiftfishcharters.com