In the hall of the house of my youth stood an ever present old painted over bookshelf. One form an era of things built to last, not pressed together wood scraps and lots of glue, an old homemade wooden bookshelf. On it's shelves rested the entire Travis McGee series penned decades ago by John D MacDonald. Travis was the hero in the series.
On the days of house cleaning and doing redundant chores a vinyl record scratched out "incommunicado" by Jimmy Buffett. The opening line is "Travis McGee is still in Cedar Key" resonated in my young mind.
Eventually  I read the entire series. Then re read it in order.
Travis spoke with his friend Meyer about how he preferred the smaller swift fish, like snook and redfish. I instantly related. I preferred them too. When I I began guiding I needed a name that was different, catchy something diverse. I liked his description of my favorite inshore species.  I borrowed the term the mind of Macdonald voiced by  McGee and took the name Swift Fish Charters.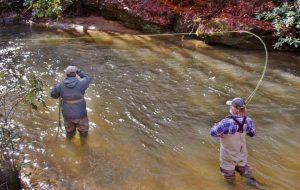 I have found myself more fond of targeting exactly that. Rainbow trout fishing has quickly become a favorite of mine. On fly in creeks, swift water, swift fish and a smooth cigar in the evening while reliving and embellishing on the events of the day, washing down a shot of patron with a cold beer, tosting the hero, McGee …
That's what fishing is all about to me.
Coming Soon….. The Logo…..