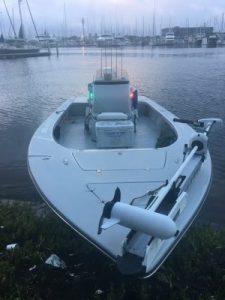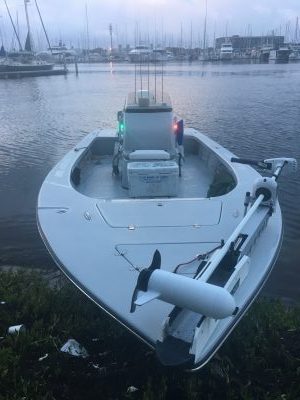 Capt Tim's 2017 Blazer Bay 24 GTS is a fishing machine, built with Tampa Bay in mind, she runs shallow, fast, and allows access to areas that the tide had to be waited on before. The Suzuki 250 is powerful enough to out run storms if need be and get you to the fishing grounds quickly and safely. Most days Capt Tim runs around 30-35 mph but it is nice to be able to make a move quickly when the conditions allow to maximize your time on the water.
Dual Power Poles stop the boat and hold it in perfect position to wear out the fish!
With seating for 6 everyone will have a cushion to sit on if they so desire. This Blazer Bay 2420GTS is a wide stable platform with the right amount of free board. She fishes like a flats boat and rides like a bay boat. kinda like having your cake and eating it too.
An umbrella is utilized for the days the sun is relentless and stowed out of the way for the days its not needed. A cooler is always available with waters, gatorades and soft drinks.
Contact Captain Tim
Simply call or text Captain Tim at (813) 714-0889 or fill out the form below and he will be in contact with you shortly.