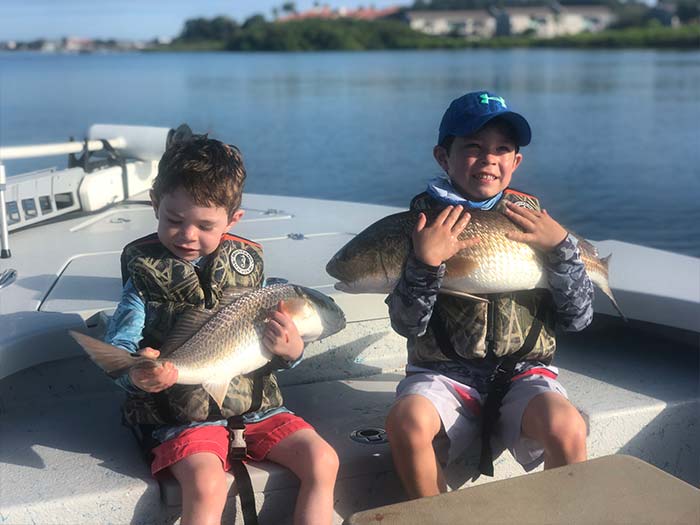 Winter Tampa Fishing Charters (Dec. –Feb.)
As winter approaches and the water temperatures begin to drop, a thrilling transformation occurs in the world of fishing. It's like nature is putting on a spectacular show just for anglers, with the Trout bite turning sizzling hot and the Redfish eagerly waving their tails as they forage for delectable morsels. If that's not enough to get you excited, the scrumptious Sheepshead make their grand entrance, swarming the area's reefs and canal systems. What a fantastic time to be an angler!
This is the perfect season to experiment with artificial lures or try your hand at fly fishing, as the fish are more active and eager to bite. Captain Tim, an expert in sight fishing, is your go-to guide for these exhilarating angling adventures. With his trusty skiff and exceptional skills at poling the flats, Captain Tim will lead you on a thrilling hunt for Redfish in their natural habitats.
But wait, there's more! You may also find yourself cruising the area's creeks and rivers on a spacious bay boat, where you'll have the opportunity to reel in a variety of amazing catches. From Sheepshead, Redfish, and Trout to Snook and even the occasional juvenile Tarpon, you'll be in for a fishing experience like no other.
To make the most of this incredible time of year, we suggest booking a 4 or 6-hour trip with Captain Tim. You'll not only enjoy a memorable day out on the water, but also learn valuable tips and techniques that will elevate your angling skills to new heights.
So don't let the winter chill keep you away from the water. Embrace the season, grab your fishing gear, and join Captain Tim for a remarkable fishing adventure that you'll cherish for years to come!
Book your adventure today!