Tampa Fishing Charters / Swift Fish Charters
The snook bite has been absolutely stellar. Today I had a really good charter, not to say the rest are not good but this was a little different. Phone rang at 8 am asking if I was open today for a last minute trip. I happened to be off but not for long! We decided on a 10 am pick up and after securing bait from my Son who had his own trip we were off to the fishing grounds.
The plan was to fish for an hour or so, do a little riding around , kind of an Eco tour and have lunch on the water. Our first stop Mohamed  began the onslaught of the snook. Mohamed had fished 5 times before and never caught a fish, with  second cast all that changed. Over the next hour and a half Mohamed bested over 25 snook several close to the bottom of the slot. They were only doing catch and release but he really wanted to catch a slot sized fish. Dad said it was tine for lunch so we left and went about the business of a long idle to I.C. Sharks.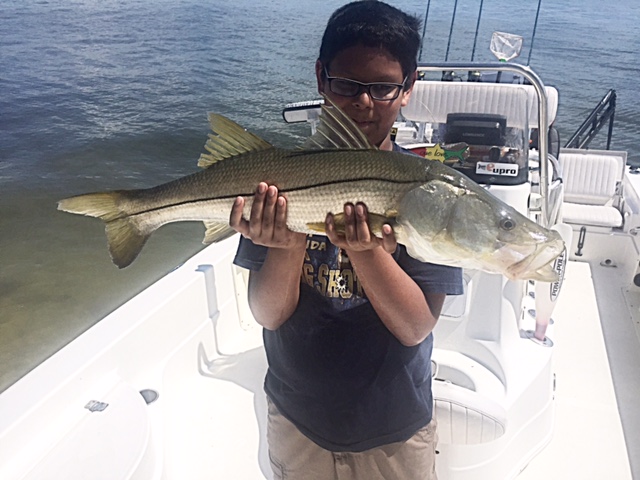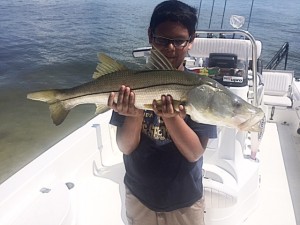 Located on the west side of the Gandy bridge I.C. Sharks is nestled in to some of the prettiest old Florida mangroves near St. Petersburg Fl. Grouper sandwiches and a bowl of Blue Crab bisque was on order and Mohamed was itching to fish again. The food was engulfed and we were heading back to the fishing grounds. We decided on a pit stop at an island for a little exploring and some wade fishing. The resulted in Mohamed's over-slot snook and the perfect end to a great day on the water. This was probably the most relaxing no pressure charter I have ran in 2 years, what a good day to be on the water !