Tampa Fishing Charters recent report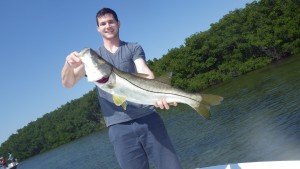 Best bite is at first light on a Tampa Fishing Charters! If you know areas or flats that typical are loaded with bait go there first with anything in sardine patterns. Stay small as the fish seem to be keying in on the smaller baits. I have been taking some clients with me to catch bait and get in on a hot bite early. Top-waters that are small and walk the dog, rattle and have white bellies have been the good producers. Soft plastic swim baits are a close second, work it very erratically switching , swimming repeat without a rhythm, Trout, Mackerel and Ladyfish are easy prey. For the fly guys a green and white clouser is deadly!  The bite lasts about a half an hour, then I snag bait and head to the flats!
Trout Fishing Tampa Bay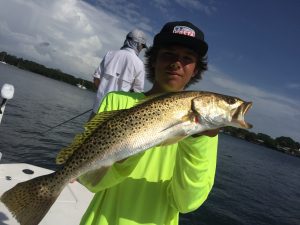 Trout have been staging in areas with good current flow, grass, sand, and quick access to deep water. The one constant about summer fishing is its inconsistency. One day the
snook
are on fire then not so much for 2 weeks, mangrove snapper are on area docks and bridges and are usually fairly willing if chummed hard. Redfish schools are also foraging the flats on the incoming tides but the afternoon storms make it very hard to plan anything when the incoming tide is in the afternoon. All that taken into account, prepare for everything, have fun and be flexible!
Tampa Fishing Charters