Tampa Fishing Charters report 9/9/16
Redfish
Redfish are feeding well as the tide reaches its peak, the slot fish have been hanging out in the bushes and the breeders continue to roam the flats. They get pushed around a lot so I tend to shy away from them except in the half light of an orange and grey evening, as the day slips in evening they bruisers let their guard down and will feed hard.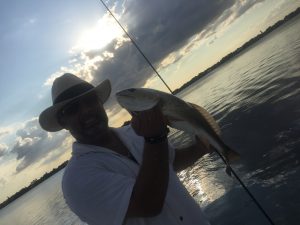 Snook
Snook feed well at this time also, most of the fish are pups but the occasional big female will come out to grab a bite.Usually the big girls are one if the first fish caught when we pull into a new spot. It takes a lot of sardines to to get them going and to keep them interested. A steady stream of chummers tossed out keep the fish interested. Recent trips we have boated between 5 and 20 snook, mostly under slot one in the slot and one over slot fish. as we progress into the the fall I look for the bite to continue to improve and the predictable double digit days should return until the water temp drop into the 60's.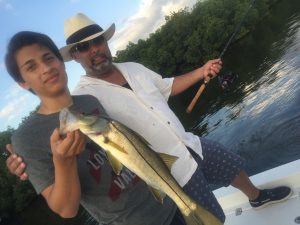 Everything Else
Trout, Spanish Mackerel, Cobia, Sharks, Catfish, Puffer fish and a variety of other less desirable but hard pulling fish have been mixed in with the bait pods showering on almost every local flat. For those wanting meat this is the place to fish. It takes a few minutes to get them going but once they start it stays pretty steady and the fish at times, seem to be in a limitless supply.
Its your adventure and its waiting for you, so what are you waiting for?
To book your Tampa Fishing Charters with Swift Fish Charters Call, text or email our at
813-714-0889 or
tim@swiftfishcharters.com .