Report; Tampa Fishing Charters:
Snook Fishing Tampa Bay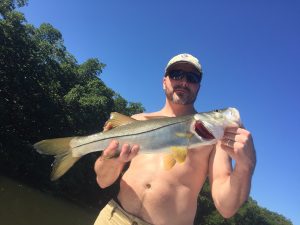 Departing from the dock at Hula Bay , a short run across the bay and the bite is on! Bait is still hanging around and the water temperature is hovering around in the low 70's and the snook seem to think it is still late fall. Recent trips have seen good numbers of snook coming over the gunnels. Many of the fish are just below slot with a hand full in the slot. Right now the season is closed but it makes for great sport fishing and catch and release action.
Trout Fishing Tampa Bay:
The trout bite for the most part has been on the slow side, until you find them. Once located the bite can be non stop until the fish shut down. Trout are in season right now and the daily bag limit is 4 per person per day in the slot (15-20 inches) and one fish over the slot. As a Tampa Bay fishing Guide for over a decade I feel the best eating size fish are in the 16 to 19 inch range and encourage the release of fish over 20 inches. That said you are still welcome to keep your catch if you want it. The larger trout I handle carefully as to not remove their slime coat, too much handling can cause infections on their skin. Many times a release tool is used to keep from having to touch the fish unless its for a quick photograph.
Outback Bowl
If your in town for the out back bowl and looking for something to do in Tampa area, Consider hiring a licensed Charter Captain and spend a day on the pristine waters of Tampa Bay fishing. Many of the sites we see are manatees, dolphins and sting ray's.
To fish or just go sight seeing in Tampa Bay Give our a call or text
813-714-0889