Tampa Bay Fishing Charters
Fishing Tampa Bay in the heat.
Tampa Fishing is as  hot as the weather right now! The trick to having success is fishing the right tide. Since the water temperature is hovering in the mid 90's moving water is the key. Tides move best during the middle third of the tide whether incoming or out going. The hard part  is to trying to align your schedule and the tide schedule. Sometimes the best movement is during the mid day or even worse mid afternoon. I carry a large umbrella to help shade the boat and pick up something resembling a breeze to keep it more comfortable. Hydration is a must if your planning to be out in the heat, especially if you are not acclimated to the heat and humidity. Hydration starts the day before. Drink lots of water and little if any caffeinated drinks this will be beneficial for you on your trip.
Tampa Bay Fishing Charters, Whats hot!
Spanish mackerel have been cooperating well, these guys are feisty, offer up violent strikes and blazing drag pulling runs. They are like to hang out over reefs, hard bottom, deep edges of grass flats, bait schools, and any kind of structure that has decent movement. Rigging with 40# mono leader fashioned to 15 lb braid on one end and a 2/0 long shank silver J hook.
These guys set the hook themselves and often the best fisherman on the boat is the rod holder. A medium action multi purpose inshore rod 7'6″ with a 3000, or 4000 series reel is sufficient. I try to stay away from chunking expensive hard plastics here, it can get costly real quick.  For the Fly guys this is a hoot! Tie a green and white clouser about 3 in in length on a long shank hook, the Spanish are excellent adversaries on an 8 weight.
Homosassa Scalloping Charters
Beating the heat is important and one sure way is to do a scalloping trip. Bayport to Crystal River have had good reports of scallops for those that are hunting them. Grass Flats in the 4-6 foot range are holding good numbers. A mask, snorkel and a bag and your in business, There are tons of videos on line if you have never done it, there are also a good number of captains offering scalloping charters until Sept 25. Its a great Florida style family outing!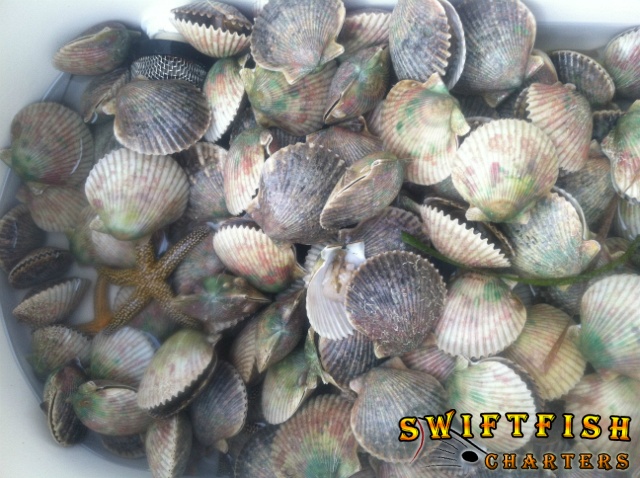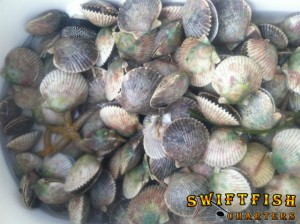 Book your Tampa Bay Fishing Charters or Homosassa Scalloping Charters now!
813-714-0889 to visit the scallop site click here