Tampa Bay Fishing charters
Recent weather patterns have made for some fantastic fishing. At times it has bordered on epic! Snook have been plentiful as the water temperatures hover right around the 70 degree mark. Over the next 15 days the weather predictions are showing stable conditions. Stability this time of year makes for awesome fishing. Recently we had a minor front push through, the predicted time of the front to pass was around noon-2 pm. I scheduled my crew to arrive at 8 am. We made our way across the bay, it was a bit bumpy but nothing my 24 Blazer Bay could not handle with ease. The tide had already reached a lower stage than called for because the northerly wind had pushed more water out of the bay.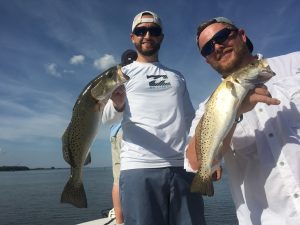 Navigating into a deeper hole my clients began the whack fest. Most of the fish were respectable in the 22 to 27 inch range. The sheer numbers of snook over the gunnels was astounding. In the first half hour we hit 20 then lost count in the mele'. Greg caught and released over 25 snook on fly alone. Brian got his 1st – 5th snook on fly and the captain even got in on the fly action boating one while the guys took a  beer break.  Greg estimated over 70 as we bumped the dock at the marina.
Tampa Bay Fishing Charters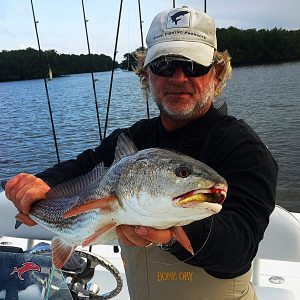 To book your adventure Call or text our at 813-714-0889 . Get in on the action while it's hot and the weather is beautiful.  Along with snook we have also been getting on some trout when the tide is right and even the spanish mackerel bite has been on during the incoming tide. Book your adventure today with one of the most experienced guides in  Tampa Bay.
Live bait and artificial Packages  and multi day packages available along with lodging.
To see Rates click here