Fishing Charters in Tampa Fl
Tampa Fishing Charters
Looks like stable weather conditions will continue through Sunday, then a touch of winter for a week. The fishing the rest of the week should be solid for Fishing Charters in Tampa Fl. Snook and trout continue to be top performers. A well full of sardines will be a hot commodity going into the cold front Monday. The trout and snook will be staging close to their winter holes. So look for a big push of fish to come in to  the many creeks and rivers all along Tampa Bay. They will be feeding hard to get one last gorge before the cooler air moves in to drop the water temperatures. As the water cools their metabolisms slow.  They require less food to survive. They also become sluggish and will not expend needless energy to feed except during the warmest parts of the day. It's good they need a break.
Winter Fishing Tampa Bay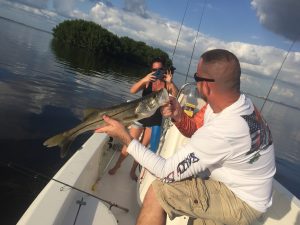 As the snook migrate deep into the back country the sheepshead migrate into the Tampa Bay deep water rock piles, wrecks and reefs. These critters are just plain ugly. A dingy grey body under black bands and a set a chompers that look out of place at best.  Don't let their looks fool you. They prove to be a challenge to the most experienced anglers,often times the novice anglers pick it up very quick. Rigging with a  #2 bait hook and a small piece of shrimp weighted enough to sink down in the current is an undeniable meal. Often describable as convicts for their innate ability to eat the bait right off the hook.
To combat this I tell my anglers to fish as straight down as possible. Also when the fish begins tapping the shrimp begin slowly pulling up. Sometimes the movement of the bait will make the fish commit to eating, if it feels heavy a sharp bump and reel!  It is a feel that has to be developed so be sure to remember what you were doing when everything worked. Rinse and repeat.
 Fishing Charters in Tampa Fl. Book now!
Give our a call or text for your fishing charters in Tampa, Fl 813-714-0889 or contact him by email at tim@swiftfishcharters.com