Tampa Fishing Charters / Fishing Report
Recent Tampa Fishing charters catches have varied to include trout to tarpon and just about everything in between. Each day seems to provide a differ challenge . With the Red Tide holding off the coast the bay remains clean and productive.  Many wonder why this is. Red tide can't bloom in fresh water and the rainy season has been good to us. The salinity levels are down in the bay which is normal this time of year but they are low enough the red tide can't bloom inside the bay right now. We have 6 rivers and many creeks dumping in fresh water.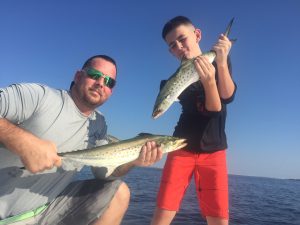 How has it effected the bite? it really hasn't, if anything it helping. Any of the fish south have pushed north to avoid the bad water and we have seen an influx of redfish and trout and many mackerel have yet to leave the bay. The fish are fine to eat if a meal is your objective. My policy on harvesting snook and redfish has been catch and release for some time. I only allow 4 trout with more liberal limits on snapper and mackerel.  The restaurant I run out of Hula Bay offer hook and cook for my clients, this is for my trips only they do to provide this for any other captains other than those I work with.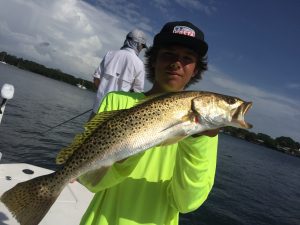 Trout and mackerel have been hanging out together and the ladyfish mixed in provide non stop action at times. Snapper have been on reefs and deeper structure like docks, bridge pilings, and under water rock piles. Tampa Bay is clan and full of fish. Don't wait book your Tampa Fishing charters today and live the adventure instead of dreaming of it.
To book your trip call or text our at 813-714-0889