St Pete Fishing Charters
January St Pete fishing charters recent report by Capt Merrick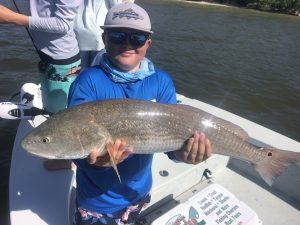 The west coast of Pinellas County including Tampa and St Pete has been offering up some great fishing opportunities for some great fishing.  The trick is to get out between the fronts!
Inshore the Trout, Redfish, ladyfish, jacks, bluefish, and more have been on the flats and cuts in large schools!  Ladyfish,Trout, Jacks and Bluefish will all eat artificial lure when presented to them and are great fun to catch. Look at the picture in the report, never know when a shark is going to come grab a bite!
Redfish require a much more stealthy approach in the gin clear waters of winter. Trips on the poling skiff targeting very fish is a trip for the more advanced angler. On these trips leave the live bait at home, artificial lures and fly fishing is the way to go. (To fish this style of trip please be sure to let our know when booking.)
The dock and structure fishing for sheepsheads, grouper, and redfish has been great as well! And on the right days the near shore gag grouper bite has been great!  Using live shrimp on a jig head will entice the sheepshead, grouper, snapper , redfish with the occasional black drumBut they are now a closed and a catch and release only!