Fishing Charters Tampa
Winter season is upon us and as of this report we are seeing highs in the mid 60 to low 70's. The warming trend starts Thursday December 14, and is forecast to continue over the next 15 or so days, some days are showing highs in the low 80's. along with the low air temps the water temperatures have taken a big hit as well dipping into the high 50's and low 60's. For many of my nothern clients this doesn't sound so bad, but it does change the complexion of our fishery. But not for the bad.
Targeted Species for Fishing Charters Tampa
It all depends on the day and the client.  On the days of calm winds and warmer temps a run into the bay with the 24′ Bay Boat to fish one of the many rock piles and or reefs. They often will hold Sheepshead  (pictuted). She will fish 4 comfortably.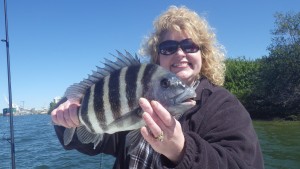 These toothy critters are fun to catch and their ability to clean a hook without a bump makes them a great challenge to target and makes up for their size. They are not the biggest of fish but they do make great table fare. Their wide bodies make them great fighters in the deeper  waters of the Tampa Bay.
Another option I offer when fishing this time of year is to fish deep into the backcountry with my 20′ tunnel hull skiff. This trip is geared more to the hard core angler or they guy wanting to learn how to work a variety if artificials. Most days are spent in creeks and fishing holes deep into the backwaters. I typically run out of Ruskin and Charlotte Harbour for these adventures. I also offer single day trips up to multiple day trips with lodging included. Call For Pricing 813-714-0889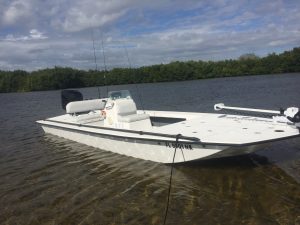 Come on out and fish with a Full Time fishing guide. A guide that chose this career path. A true native Floridian who was born and raised locally, not retired from another career. I don't fish for extra money,  I fish because I love it and it's who I am.